Young Thug type beat instrumental store
Popular Young Thug type beats.
"Nonchalant" has a very modern sound artists like Young Thug, Lil Baby and Rich The Kid are using a lot. Bouncy drums, deep bass an infectious melodies. This is the type of beat that you can hear on the radio all day!
If you like guitar based trap rap beats you will love ""Cost A Lot"". If Thugga were to collaborate with Jimmy Hendrix this is what it would sound like 🙂
"Rare" sounds like a Travis Scott x Young Thug type beat but with a 2023 sound. This instrumental will fk the streets up for sure!
What do you get when you buy a Young Thug type beat?
Basic Lease
$15 Surplus for Beats with Hooks
Just need an mp3 and/or wav file?
Then You're good to go with the basic beat lease!
You receive every sound (kick, snare, bass etc) separated to create the perfect mix!
The unlimited lease is the type of lease that comes closest to an exclusive type beat license.
about our Young Thug type beats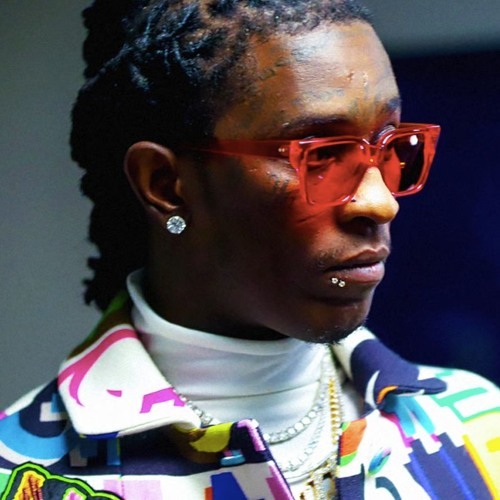 Young Thug influence in rap and trap music is not fading.
His sound is only expanding and arguably more popular than ever before.
With relative newcomers under his wing (Gunna, Lil Baby etc) that use a similar type of beats as himself he seems to be in the game for a lot longer than anyone expected.
What can you expect from our Young Thug type beats?
Obviously, there's a certain set of sounds Thug seems to like.
Usually, melodic progression deep 808 sub basses and hard hiphop drums. 
This is exactly what you will hear from us in this section. 
Hope you catch a vibe and make a hit to one of these type beats!
Using Our Free Young Thug Type Beats (2023)
Lastly, all (free) Young Thug type beat instrumentals are courtesy of our team of multi platinum producers!
Planning to use one of our free Thugga type instrumentals or other free downloads?
No problem.
That's what they're here for!
Nevertheless, please to make sure you give proper credit. 
For instance: "prod. by TypeBeats.com".
Enjoy! Free Young Thug type beat - "NonChalant"
"Nonchalant" is a royalty free Young Thug type beat.

It's a for profit type beat you may use up to $1k in profit.

However, if you cross that threshold you are going to have to purchase a license.
The #1 Young Thug Type Beats Website.